A blog can drive traffic to your site. NewsBuilt lets you make an automated topic-based news blog. Add search criteria and schedule tasks, and NewsBuilt finds related news and posts to your site. Here's how…
Why use NewsBuilt?
Manually adding news to your blog is time-consuming and tedious. If you bookmark search topics to regularly find and post article excerpts to a blog, NewsBuilt can save you time. If you want to curate topic-based news for your site, or you want to auto-post daily videos on a topic, NewsBuilt can do that too.
NewsBuilt was designed to fill the needs of a busy grassroots campaign. A non-profit organization fighting for better elections, Rank the Vote, needed a news blog, and NewsBuilt was born! It has been serving up their ranked choice voting news since mid-2020.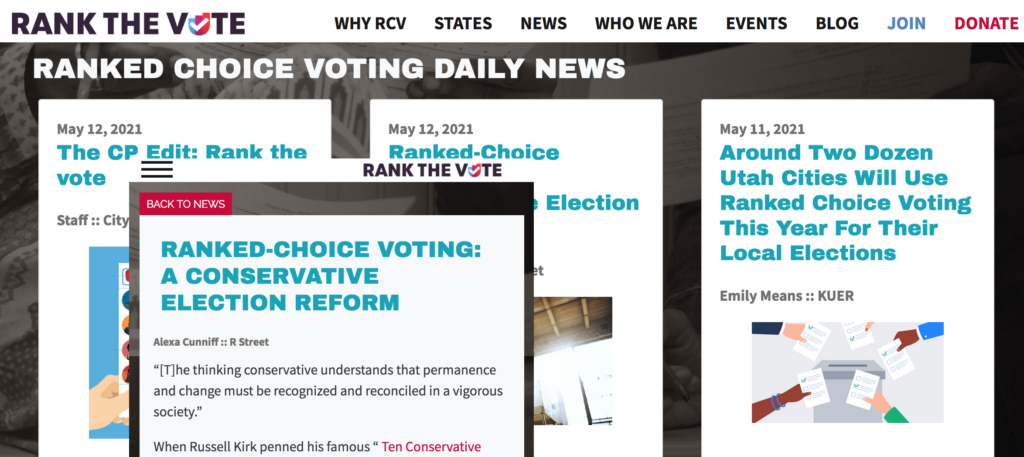 Turning It On
Create a NewsBuilt account. You can add services, run searches, extract content and build social media shares with a free account, but a subscription is required to post to a blog or schedule tasks.
Checking Your Dashboard
The dashboard shows a summary of your data, connections and services. The left side shows your news data and service calls (rollover for total & last call). The right side shows your setup, access keys, accounts and subscription plan. Recent news is summarized in the center.
Starting Your Engines
Search engines find content for your blog. NewsBuilt has a few built-in engines, so let's start them up before digging into the other features. Go to Search > + Add new criteria, choose Engine > The Guardian, enter search term and save.
Click FIND NEWS to search using all active criteria. You'll see a progress bar, then a summary. Click News to see the results. To limit the age of all news results, set Setup > Max. Age.
Adding Horsepower
The built-in engines work well, but are somewhat limited, so let's add more. Search and other NewsBuilt features use external APIs; Application Programming Interfaces are how programs communicate over the web. NewsBuilt offers dozens of services via API to find news articles, podcasts or videos, extract full news content, analyze mood or shorten URL. About half are served by the marketplace RapidAPI, so you can quickly unlock a number of features with one key.
After creating a RapidAPI account, subscribe to an API. BingNews is shown here, but you can choose from any of the compatible NewsBuilt API services. Most offer free and low-cost options providing enough calls for a typical news blog. Subscribe to an API from its pricing page.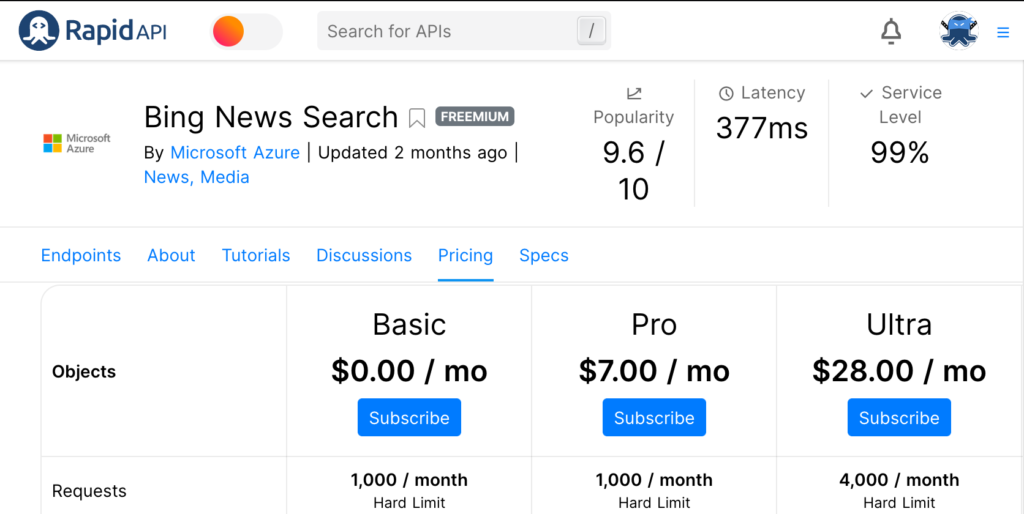 You need an extractor to get full article content, so also get Ujeebu. For news videos, add Bing Video. To guess the mood of each article, also get Japerk. See all your plans at Billing > Subscriptions & Usage. To access your RapidAPI services through NewsBuilt, click Add New App.
Name your app, then click its Security button.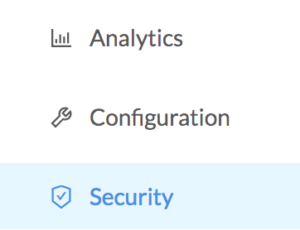 Copy your app's Application Key. To expose the key, click the eye icon.

Go to NewsBuilt > Keys and paste the key. Lastly, mark any RapidAPI services you've added.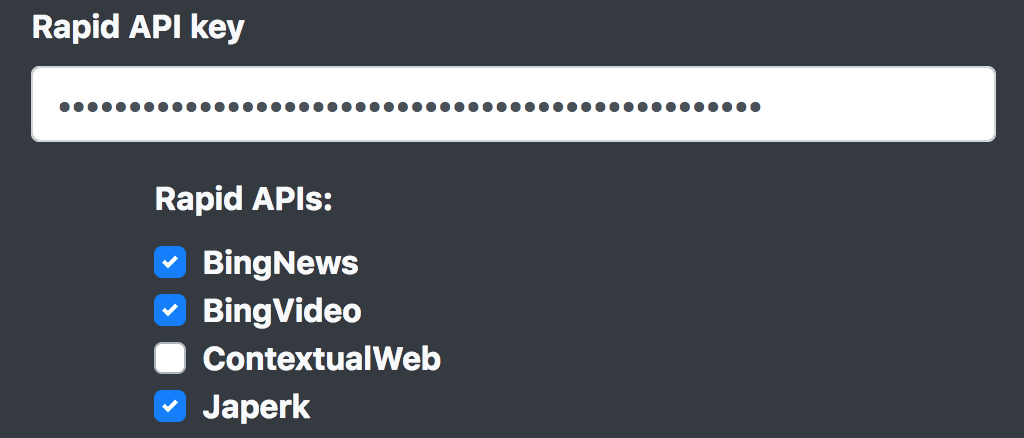 Save changes to Keys. You can now access your RapidAPI services through NewsBuilt. To add other services, subscribe to it from your RapidAPI account, then mark its box in NewsBuilt > Keys. For non-RapidAPI services, sign up for an API key and add to Keys. See the full list of NewsBuilt API services.
Extracting News Content
To extract full article content, add an Extractor (with optional backup) to your criteria.
Here, BingNews finds up to 13 related articles, and for each, Ujeebu extracts the full content and Japerk analyzes the sentiment. Notice for each BingNews call, you also make 13 Ujeebu & Japerk calls.
Scoring Search Results
Keyword Fit: While finding news, items are scored by user-supplied weighted keywords. Add to Setup > Fit Keywords a list of words, with optional weights as an asterisk (*) and an integer.

Keyword Fit and Sentiment Analysis rely on full text, so using an Extractor improves the quality of both Fit and Mood scores.
Connecting Your Blog
What you need: A WordPress or NationBuilder blog and a NewsBuilt subscription.
Go to Setup and choose your blog Platform.
The following steps are for WordPress. NationBuilder users can skip ahead.
Enter your WordPress URL. If your WordPress User matches your NewsBuilt login, leave it blank.
To get a WordPress Password go to WordPress > admin. Add the plug-in Application Passwords and the info now appears at the bottom of your User Profile.

Pick a name and click Add New. Copy the password (spaces and all) from the pop-up. For security reasons, you only see the password once. If you lose it, just revoke it and make another.

Paste into NewsBuilt > Setup > WordPress Password and save. Skip ahead to Testing Your Platform.
NationBuilder users: Go to NewsBuilt > Setup and verify your NationBuilder info. Unless you have multiple blogs, leave ID=1. If your NationBuilder Slug matches your NewsBuilt login, leave the field blank.

Go to NewsBuilt > Accounts. Click NationBuilder and log in to your NationBuilder account to grant access. NewsBuilt connects securely via Oauth2.
Testing Your Platform: To verify the connection to your blog platform, click Setup > TEST to add a test article and post it live to your blog.
Posting News Content
Users can post items to a news blog either by item or by batch. To post an item, click its post preview icon > then click POST. To include an item for batch-post, click Post? to change its post status to Ready. Click POST BATCH to BLOG to upload all post-ready items. Of the items below, only the 1st is post-ready and gets uploaded—the 2nd has been posted and the 3rd is ignored.
If you typically post all search results, set Search Criteria > Post All to mark all its results as post-ready. The option is off by default. (See Curating Your News Blog below.)
Old News: News items can be archived when you are done with them. Click an item's Move button to archive it, or click the top Move⟩⟩ button to archive all recent items. Click Old News to see archived items. Old items can be unarchived as well.
Deleting items: To delete associated posts from your blog when an item is deleted in NewsBuilt, mark Setup > Delete Blog Posts. Uncheck to leave associated posts on your blog when deleting related NewsBuilt items.
Reposting items: On upload, NewsBuilt saves a hidden post status for the item. If you delete a post from your blog platform and want NewsBuilt to repost, edit the item, uncheck Post and save to reset its post status.
Image files: Item images can be uploaded to your blog's Media Library while posting. The URL of the attached image appears in the item's Image file after being posted. Enable this feature in Setup > Attach images.
Setup > Article/Podcast/Video Post Link sets the text link to the original URL at the bottom of posts.
Curating Your News Blog
NewsBuilt tasks can be scheduled as needed. Schedule just a Find News to search but allow items to be curated before posting. Also add a Post News task to auto-post search results. Go to Schedule > + Add.

Mark Keep Logs to report when a task runs. The example above finds news every morning—equivalent to pressing Search Criteria > FIND NEWS at that time. Times are in UTC, shown in the bottom bar for reference.
To see logs of completed tasks, click Logs.
Stop here if you want to curate posts. If you prefer automatic posting, also add a Post News task.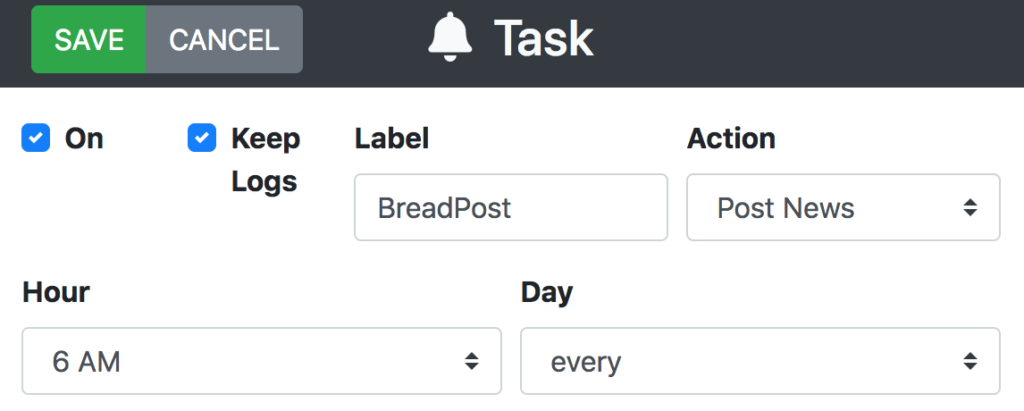 The example above uploads all post-ready articles each morning. In this case, mark Criteria > Post Results to post everything found. A Post News task is equivalent to clicking News > POST BATCH to BLOG. For freshness, a Find News task runs prior to a concurrently scheduled Post News task.
Sharing to Social Media
NewsBuilt provides custom text for sharing to social media. By default, the main text comes from the item Description, but you can add custom Share Text to any item. To further customize, in Setup, change or remove Share Prefix and decide to Include Article Title. To choose shared link destinations—either blog post URLs (checked) or original URLs—mark Share Article/Podcast/Video Posts. Promoting your blog post URLs is nice, but depending on the platform setup, unchecking these boxes and sharing original URLs may look nicer (via Twitter cards / Facebook og:tags). Hashtags are appended to the share, followed by Twitter handles.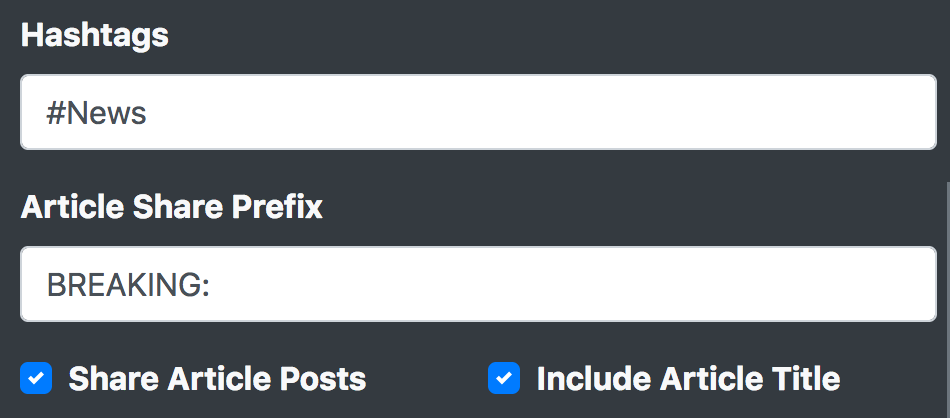 Link Shorteners: To save space, links are shortened via TinyURL by default. To shorten using Bitly instead, connect Accounts > Bitly. The feature is enabled in Setup > Shorten URLs.
To share to social media, click an item's share icon to open the share page.

Depending on length, you may see a longer text version as well. Click the copy icon by the text you prefer. (NationBuilder users see a share icon that opens the broadcaster.)
Twitter handles are added automatically. To add handles, go to Setup > Handles > + New Handle:

Handles with the most keywords in an item are added to the share text, up to the number in Setup > Max. Handles. Set to OFF to disable the feature.
Consuming & Generating Feeds
Feeds allow a user to re-post (consume) everything another user posts (generates). Users can generate a feed and/or consume feeds from other users. The dashboard displays your Consuming and total feeds, Generating status and consumers.
Consuming Feeds: Go to Feeds and click Consume on one or more feed. News items are automatically posted to your blog whenever one of your consumed feeds is updated. (Items do not appear in your data.) Click again to stop consuming. If you are generating a feed, your consumers are listed at the bottom of the page.
Generating Feeds: Go to Setup > Generate Feed to share your posts with other users via feed. When posting, news items are also posted to all the blogs of users consuming your feed (your consumers). Uncheck to stop your feed.
More NewsBuilt Services
The built-in NewsBuilt API services use a shared key available to any NewsBuilt user. While the chance of a shared service getting rate-limited is low, you can add your own key to replace any of the shared keys.
This post covers just a few of the many API services offered by NewsBuilt. Also offered are ListenNotes for podcasts or YouTube/Google for videos, and other APIs can even be added by request. Given its active development, the set of services and features in NewsBuilt is certain to grow.